How to Maintain Domino Ink Pump
Firstly we need to learn about the construction of Domino ink pump. Generally it is consisted by two parts, motor and gear pump.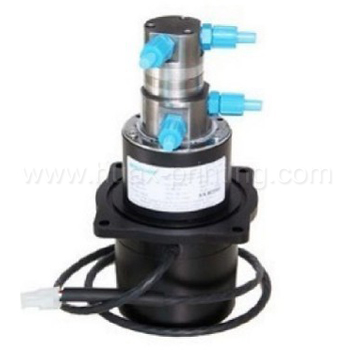 The motor part is a kind of infinitely variable transmission brushless motor. The gear pump part is made by two sets of coaxial connected gears for offering positive and negative pressure. Finally these two parts are connected by electromagnetic induction principle. The ink and motor is separated to prevent the motor from being polluted. While when the gear is blocked, the motor won't be burnt out easily. What's more, the gear won't be damaged by any heavy twisting force from motor.
Domino Pump is a kind of precise micro gear pump which is originally produced by American Micro Pump Company with expensive sale prices. However, the service life of Domino ink pump manufactured by Huax Tech normally can reach as long as 4 years with sales prices 1/3 of the original ink pump.
There are mainly two kinds of gears for Domino Printer. One is made from compound material with soft characteristic, and it is connected by stainless steel axle, suitable for general type ink, like Domino black ink pump. The other one is made by titanium alloy with hard and wear-resisting characteristic, and it is connected by special ceramics, suitable to be applied in special ink, like Domino Opaque Pump.
Presently, the normal problems of Domino CIJ printer gear pump are mainly gear damage, axle sleeve abrasion, etc. which could bring about over-speed of the pump or low pressure. Regarding to these kind of problems, our professional engineers will help you to change the damaged gears, axle sleeve, etc. to make the pump to be reborn to get fresh new life.
Huax Tech here seriously promise that we won't charge any cost based on any unrepaired pump. Each of the repaired pump will be seriously tested 24 hours before delivery. What's more, we will have one year guarantee on the repaired pump. Anyone who want to repair your Domino ink pump, please feel free to contact with Huax Tech, we willtry our best to help you to solve all of their problems.