Maintenance Suggestions on Willett Printer in Summer
Willett Printer is widely used as coding machine in each industry.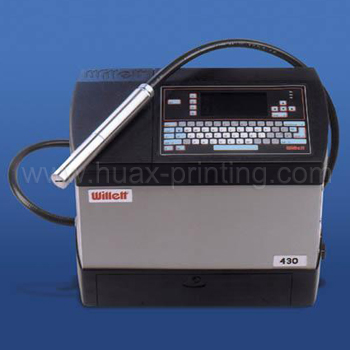 Maintenance of the Willett Printer has been an important topic in its application. As consumables, industrial printer will generate loss during the usage. The daily correct operations regarding to the regulation will play a certain role in the maintenance. When there is problem of the machine, the operators should carefully check it and take suitable actions.
The Willett Printer is equipped with functions of stoppage self-checking and debugging. Please pay attention to the indication to the stoppage in order to find correct solutions.
There could be some ink quality problem to Willett Inkjet Printer, like ink floating, ink hanging, etc. The ink problems are mainly generated by substitute ink. Once there is the problem, it would be a big problem, thus users are suggested to use the original Willett ink.
There could also be problems to the Willett or Videojet Spare Parts. With long time using of Willett 430 Printer, there could be loss to the Willett Pump, Videojet Filters, etc. And all these loss is irreversible, new spares or filters are required to replace the old ones to guarantee wonderful Willett Printing effect.
If there is Willett PCB problem generated by instability of power voltage, incorrect operation, etc. please contact with the supplier in time for maintenance. PCB is the core part of Willett Printer taking an important part in operational control. PCB contains particular command from the original supplier, it is non-substitutable.
Huax Tech sincerely supplies from all over the world with high quality spare parts and filters of brands of CIJ Inkjet Printers, like Domino A Series Printer, Videojet Printer, Willett 430 Printer, Linx Printer, Imaje Printer, etc.
Notes: To learn more information about Maintenance Suggestions on Willett Printer in Summer, please feel free to contact with us.