Domino AX Series Printer is Designed More on Practicality
According to years of products and application experience summary,
Domino AX Series Printer
engineers made complete adjustment and design on the new
Domino Printer
, which will thoroughly change the continuous Domino printing system sold in the market. It will be more solid, reliable and easy operating in tough environment.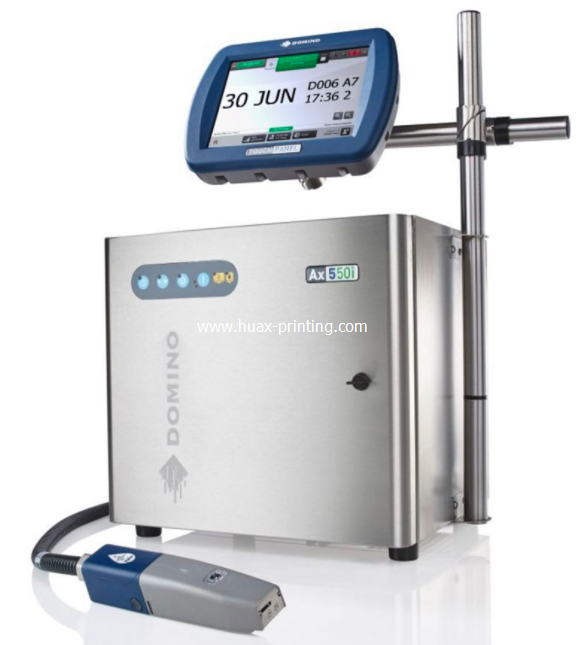 For example, both Domino AX350i and AX550i Printer adopt IP66 grade electronic sealing shell and special static pressure air cooling system, which could be directly washed by water in special manufacturing environment, and the inner part of the printer will be not damaged by steam and polluting material. Domino AX550i Printer uses nautical grade stainless steel cabinet to protect from harsh production environment.
The special quality management module (QMM) will continuously and automatically supervise and control the ink condition to make sure the ink is in good state and the i-Pulse runs normal. What's more, it will inform the operators when the ink needs to be changed, the solvent needs to be added, or the i-Tech filtering module (ITM) is under free maintenance. Domino AX Series Printer can obliviously extend the expiration date of Domino Printer ink, and lower down the chances requiring operators, which will highly improve the machine's efficiency.
The 3 level solvent recycle system adopts positive slot control device can decrease the solvent consumption to the lowest. While the heat designed cabinet can lower down the accumulation of heat, which will finally extend the service life of components.
The free maintenance module ITM can be changed without any requirement of tools or skills. Its nonstop working capacity will guarantee long time continuous production. The clean filling technology and colorful coded general consumables will remove any risk of ink splitting, while the easy overall design will reduce shutdown of machine.
Domino AX Series Printer's new design will greatly reduce the chances requiring operators, even under maintenance also requires no tools, which will largely lower down the cost of ownership.
Domino's fresh new AX Series products include AX150i, AX350i and AX550i, series of print head, accessories, as well as kinds of system options for clients' requirement and customization.
Huax Tech specialize in spare parts and filters of Domino A Series Printer, Domino AX Series Printer, Hitachi, Willett 460, Videojet Printer, Linx, Markem Imaje Printer,etc for years. We sincerely to long term serve each our customers with good quality products, prices and after services.